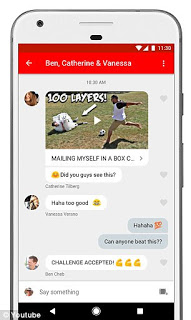 Youtube has intorduced a new way to allow users to be able to chat and share videos without leaving its app.

The new feature which is called "share on Youtube", is a basic chat feature, is rolled out today globally for only mobile. It is only available for mobile currently as there is no plans for desktop roll out.
The aim of the firm is to cut down on users switching to facebook messenger to shre videos with friends.
According to th firm,
'Starting today, you can share videos with your friends and family directly on YouTube,' wrote YouTube product manager Benoît de Boursetty in a company blog post announcing the new feature.

'Not only can you share and receive videos in the app, you can also chat about them right on YouTube, reply with another video, invite others to the conversation, and more.

'We think it'll make sharing easier, faster and more fun on your phone.'
The new feature simply offers a new way to share videos but users can still share videos with copying and pasting URLs and can still continue to select other social networks when using the share button.
Also according to them;
The feature will be built into the current 'share' button and let users select recipients from their phones' contact lists.

Users can start one-on-one chats or group chats with up to 30 people, in which they can watch shared videos without leaving the thread.

They can also reply with text, emojis and additional video links.

Any videos shared with the new chat feature will also live on a brand new tab on users' YouTube apps, making it easier them to catch up on videos sent by friends.

YouTube says 'like chats around the water cooler, shouldn't sharing a video be as easy as saying, 'Have you heard this new song?"

The new feature is a move to keep users in the app rather than having them switch to another service to share its content.

Additionally, all the other big social networks including Facebook, Instagram, Twitter and Snapchat already have messaging features for one-on-one threads and groups.