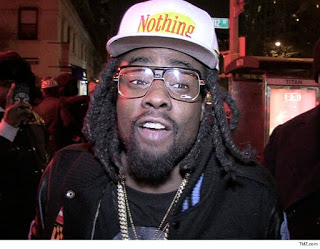 Nigerian born American Rapper, Wale has hit back at those who have criticised him for spraying his daughter money at her birthday party.

The rapper told US entertainment site, TMZ;
"That's just a little bit of that ignorance you get in this country [the US] sometimes, for other cultures. I'm used to it,"
"You've just got to respect other people's traditions on all levels before you speak on it. I'm proud of where I come from. That's just what we do, that's all I knew from when I was growing up," Wale added.
Money spraying is a widespread phenomenon at some Nigerian parties and celebrations, says Bola Mosuro of BBC Focus on Africa radio:
"Some like it, some don't," she says.
"It's used as a way to show love and appreciation for the celebrant, their parents or even musicians playing at the party.
"Most people use $1 bills, sometimes it's lower denomination Naira [Nigeria's currency], but generally people aren't using large amounts of money.
"In some people's eyes it is sometimes done in a vulgar way, and recently a video went viral showing a couple tossing money in a way that many deemed excessive.
"A minority have been said to use spraying machines, but on the whole most would do it discretely by placing the notes on the body.
"Ultimately it's a matter of choice," Bola explains.
In case you missed it, you can also watch Wale's new video "Fine girl" featuring two Nigerian heavy weights, Olamide and Davido.