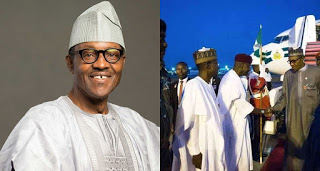 President Muhammadu Buhari has finally arrived Abuja today, August 19 after 100 days of his stay in the United Kingdom, London for medical treatment.

The presidential jet touch down at the Nnamdi Azikwe international airport, Abuja at around 4:30pm on Saturday while the president disembarked from the aircraft at about 4:48pm.
The president was received by the Minister of Information and Culture, Lai Mohammed, Imo state governor, ChAirman of APC governor's forum, Rochas Okorocha and many others.
The president who was all dressed up in a brown Kaftan, mounted the rostrum and took the national salute before the men of the Brigades of Guard.
However, the president is expected to address the nation on a live broadcast on Sunday by 7pm.
Watch Video below: