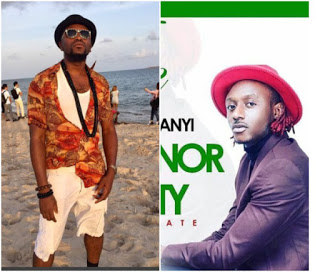 Singer, Sharkar EL has also expressed his candid thought on the issue of many Nigerian artist declaring their interest in politics.

Just when it was declared that young people could also contest for various positions in election, we see so many young Nigerian artist having interest in politics.
Of recent, we heard Kcee showing interest to become next governor for Anambra state, a positon nollywood actor, Yul Edochie also had interest in.
However, Sharkar El has decided to weigh in on the whole issue and what he thinks, read below:
"I wanted to write about the recent bastardization of The Not too young to Run Campaign by my fellow entertainers but I never chop yet so no energy..Leadership is a serious matter and we must not joke with it.
I don't know how serious Yul Edochie and Kcee are about running for office but at least they are from Anambra state and the election is in few months so maybe they re not joking but i Dont know if they have much time to campaign..
It is the fundamental rights of all of us to Run for an office or even to Run from an office but we must not make a Joke out of it since we are yet to get Leadership Right in Nigeria…For the Youths to be taken serious,we must act serious and respect ourselves,we all can't be part time comedians..

I Think Terry G the Akpako Master should arrested for planning to Run for Governor and Deputy Governor at the same time lol because it is against our current 1999 constitution of the Federal Republic of Nigeria. Let's stop making fun of our failed system, we are no more the leaders of Tomorrow, we are leaders of the
Today but we are joking with it and people need to wake up.
What we actually need is Transparent and God Fearing leaders irrespective of age or tribe, corruption knows no Age! If you are struggling to handle Fame then Dont think you can joke with a seat of power… God bless Nigeria.."