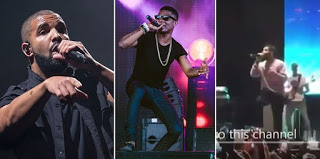 Singer and rapper, Drake performed Wizkid's "Come closer" a the pre-show OVOFEST concert in Canada yesterday.

While Drake was performing, he only sang his own part of the song while the fans also sang joyfully along with him but he avoided the chorus.
Also, when he was singing his "One dance", on nearing Wizkid's part, he told the Dj to hang on and then move on to another song from there.
We don't know if this is intentional or not but meanwhile check out the video below: