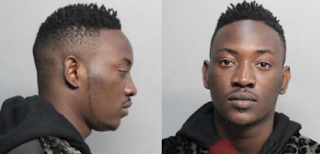 Nigerian singer, Dammy Krane's arraignment has been adjourned from August 1 to August 17, 2017.

According to the Miami-Dade County Criminal Justice Online System, the Felony case against Dammy Krane indicates that his arraignment hearing has now been scheduled for August 17, 2017.
In Felony cases, after the arraignment, if the case does not settle or get dismised the judge holds a preliminary hearing where it will be decided if there is enough evidence that the defendant committed the crime to make the defendant have to appear for trial.
Recall that Dammy Krane was arrested on June 2, 2017 for theft, credit card and identity fraud of which the singer denied the allegations saying it was a sort of mixed up in a short video he posted. Although, he has been granted bail but his case is still pending in Miami-Dade criminal court.