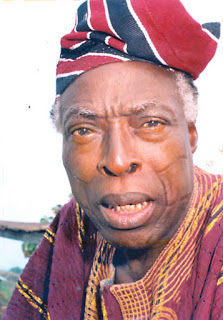 Veteran actor, playwright and journalist, Adebayo Faleti was said to have died this morning at his Ibadan home.

The actor who died this morning at age 86, was reportedly said to have passed away after his son helped him to take his bath for his early morning devotion with his family members.
The son also made mention that his father told them that he had prayed to God to send someone else to continue his mission as he was tired and longing for home. He also said he drank pap before his death.
"After the morning devotion, I helped him to the bathroom as I normally did. He said he wanted God to send someone else to come and complete his work because he had done all he could do. He also said that he wanted to go home. Suddenly, I noticed that he was not breathing again. We took him to the University College Hospital, Ibadan where he was confirmed dead. We shall miss him greatly."
Also, the first son also said that he had spoke with his father three days ago and that he was on his way home before he was told that his father had passed on.
"In his usual practice, he called me three days ago and we discussed like father and son. After I received a call this morning from my brother concerning the state of his health, I hit the road to come home and see him but I did not meet him alive. He died before I could reach home. He took care of all his children and gave us good education. We shall all miss him," said Ayoola.