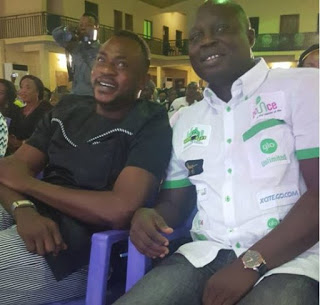 Popular yoruba actors, Odunlade Adekola and Bolaji Amusan a.k.a Mr Latin, rae said to have escaped a robbery attack on their way back from a Glo show in Ijebu Ode, Ogun state.

Mr Latin narrated the whole story to Premium times saying:
"we left Ijebu-Ode after the show and heading to Abeokuta, when at about 7.30 p.m. we ran into the armed robbers already stationed themselves on the road,"
He explained that Odunlade was driving ahead of his car when he sighted the road block by the bandits. Odunlade attempted to amke a detour, but the bandits rained bullets on the tyres forcing the car to a halt, he explained.
Mr Latin who drove his Toyota camry behind Odunlade's Toyota Avensis, said he and his colleague, alongside some of their aides, had to abandon their vehicles and run into the bush.
He also said they were in the bush ffor almost 2 hours while the bandits were searching their vehicles, taking away their valuables including money and mobile phones.
"We ran as the robbers pursued us with guns. We were in the bush for about two hours, before we later regained freedom after the robbers left the scene,"
Credit – 36ng