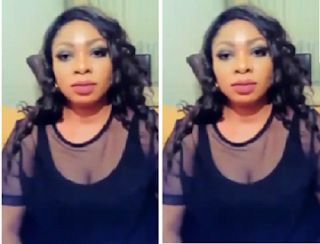 A Netherland based Nigerian woman whose name is Monica Ambrose, has taken to social media to reveal her aspirations to be Nigeria's next president come 2019.

The woman who claims is not any form of joke or whatsoever, is said to have stayed in Netherland for about 17 years.
However, the mother of three promises to provide good roads, running water, electricity and other just within six months of power.
She also said no one should analyze her english as it is not a criteria to know the best leader Nigeria needs and she also added that every citizen of Nigeria would get appropriate benefit once she assumes office.
A facebook user, Susie Retty posted the video and aksed if anyone would vote for her.
She wrote:
MONICA LIVES IN THE NETHERLANDS AND WANTS TO CONTEST FOR THE PRESIDENCY OF NIGERIA IN 2019 SHE IS PROMISING GOOD ROAD, ELETRICITY, RUNNING WATER AND ON TOP OF THAT SHE WILL GIVE ALL UNEMPOLYED NIGERIA STATE BENEFITS TO LIVE ON. LET ME STOP THERE. WILL YOU VOTE FOR HER?