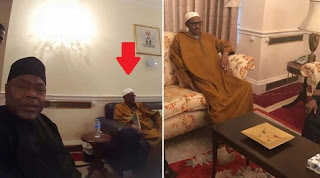 Here's the first picture of President Muhammadu Buhari 68 days after he travelled to the United Kingdon for medical treatment.

According to the voice of America's coresspondent, Saleh Shehu Ashaka, who released the picture, on saturday evening, claimed that it was the first picture of the president after 68 days abroad.
He wrote: "President Buhari's first picture in 68 days, after he daeparted Nigeria for medical treatment in London".