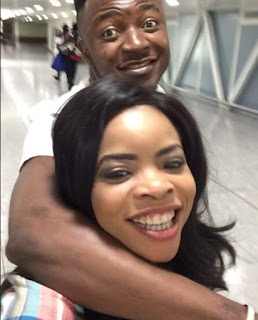 MCG Empire frontline act, MC Galaxy has reveals why he didn't marry his 'best friend', Laura Ikeji.

The singer in a chat with Punch, revealed so many things about himself from how was a victim of the popualr Ponzi scheme, MMM to why he decided not to marry Laura Ikeji.
MC Galaxy lay emphasis on how he met Laura, setting up his brand and the reason he chose not to be with Laura who is presently married to footballer, Ogbonna Kanu.
On his relationship with Laura
"Laura had always had a boyfriend for a very long time and I knew but other people did not know about it. Probably if she did not have anyone in her life, I would have asked her out because we really connected and we were best of friends. She is someone I talk to every time and now that she is married, it has not affected our relationship in anyway. Her husband loves me a lot and he attended my album listening party. He came all the way from London to attend my listening party."

"There was nothing between Laura Ikeji and I. She is not just my best friend but I refer to her as my sister because she knows about everything that I want to do. If I listen to her advice, everything works out fine and I consult her before I sign some artistes. If she tells me not to do so, I listen to her because she is very intelligent. If she talks to you and you listen, you would make it. The reason my brand is big today is because of Laura.

I was not used to granting interviews but she advised me that I need it. I am just lucky and blessed. As a smart guy, if you have such a person as a friend, you have to keep them as friends because the moment you mess it up, things might go sour," he said.
On how much she has contributed to his success
"There was nothing between Laura Ikeji and I. She is not just my best
friend but I refer to her as my sister because she knows about
everything that I want to do. If I listen to her advice, everything
works out fine and I consult her before I sign some artistes. If she
tells me not to do so, I listen to her because she is very intelligent.
If she talks to you and you listen, you would make it. The reason my
brand is big today is because of Laura. I was not used to granting
interviews but she advised me that I need it. I am just lucky and
blessed. As a smart guy, if you have such a person as a friend, you have
to keep them as friends because the moment you mess it up, things might
go sour."
On his plans about marriage
"I am currently single and I don't know when I would get married. God can decide and say I will get married tomorrow, who knows? Marriage is not something you rush, just be sure of the person you want to spend the rest of your life with. My mother tries to pressurise me into marriage but I know how I calm her down. I would want my wife to be God-fearing and good looking because I have worked hard to the stage that I deserve a good looking woman."

On his album and the money he lost to MMM
"The message I am trying to pass with my new album, 'Money Making Machine,' is that everyone should work hard and be patient. Prayer is the key and with all these, success is guaranteed. You also have to work smart. I have both inspirational and dance songs in the album. I also have love songs, it is a complete album. I intentionally explored all kinds of music for my fans; I owed them something extraordinary. I actually got the inspiration for the title of the album from the Ponzi scheme, MMM, which I was a victim. I know that with the album, I would recoup the money I lost."