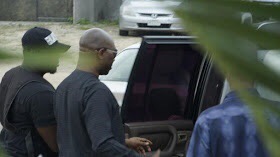 The late actress Moji Olaiya was barought back to Nigeria and buried but little is known about her husband whom she welcomed a baby with recently.

According to sources, Moji Olaiya's husband, Yomi Allen Odutola was one of the many faces at the final burial ceremony of the late actress.
Yomi was heavily surrounded by his body guards as he make his way to the Ikoyi cemetery. His body guards did not give room for the press to take photos of him or even get closer to him.
See more photos of him below: