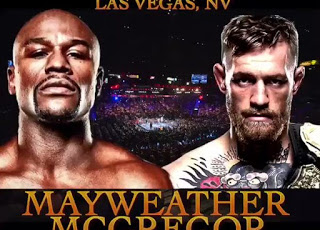 Boxing heavy weight champion, Floyd Mayweather is getting ready to face the mixed martial arts star Conor McGregor come this year August.

Floyd Mayweather who has won several titles in boxing will not hesitate to put all his eefort to win this match against McGregor.
Both fighters have taken to their social media page to confirm the highly anticipated crossover fight on Wednesday.
The fight will take place under normal boxing rules in Las Vegas, despite McGregor having never fought in a boxing ring, either as an amateur or a professional.
Mayweather on the other hand is well respected in this game having won sevarl fights and ending his career with a perfect 49-0 record.
However, McGregor has been pushing this fight for a while now and Mayweather is set to take home $100million from the fight.