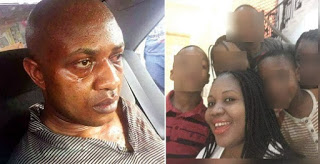 The mother of the notorious kidnapper, Chukwudubem Onwuamadike, popularly called Evans, who was recently arrested in Lagos,
has reportedly gone into hiding to avoid the crowd that besiege her Umudim, Nnewi home in Anambra state.
Reports have it that Lady Nwosu who is known as Evans mother, described as a no-nonsense woman, went into hiding after the news of his son's arrest filled the entire Umudim.
Her disappearance with the disclosure by the Obi of Umudim, Chief Beneth Okafor, that the arrested kidnapper was not known in his community as he hardly visited home, neither did he have any investment in the community.
Contarry to what everyone have been saying that her son bought her a car from the procceds of kidnapping, Vanguard gathered that she rides a lady motorcycle ppularly called Nwanyi Nnewi.
She was also said to be assiting vendors sell their wares after which they pay her commision weekly. But when vanguard arrives the canteen where she sells, she was said to have gone into hiding since Tuesday.
A woman who spoke on the condition of anonymity said:
"She went into hiding because people were trooping in to sympathize with her over the arrest of her son. Some came for different purpose; to make mockery of her and to see the face of the mother of the arrested kidnapper. Even you newsmen were troubling her. She has been crying since news of the arrest reached her. I do not know where she has gone to but i think it is good for her."
Vanguard also visited Emmanuel Anglican church primary school, Akamili, Umudim Nnewi, the primary school Evans attended. However, the headmaster of the school was not on seat but one of the teacher that was accosted said he was not competent to speak on the matter.
Evans Cries in Cell – Police source
The police also told Vanguard yesterdayn that the suspect has been shedding tears since he was thrown into the cell lamenting that: "After making billions and living in mansions, i am in the cell with common criminals." He was said to have been keeping to himself and avoid other detained persons.
We don't know him – Nnewi Monarch
When vanguard visited Nnewi, the industrial city of Anambra state, Evans' topic was the only issudde on everyone's lips of which most of them in the city described his action as embarrasing to the community while stating that their indigenes are usually very hardworking.

At his palace, the Obi of Umudim, Chief Okafor said: "I was told that he hardly come home. It is only the Akimili kindred where he comes from that will be able to give a little account of the young man. It is unfortuante that many people in this village do not know him becaue he does not have any investment in Nnewi like an average Nnewi man, neither does he own any house here."
More facts about the arrest
More facts emerged yesterday about the circumtances that led to the location of the residence of the kidnap kingpin leading to his arrest last saturday.

Sources attributed it to an informant resing in Magodo and intelligence reports that revealed the identities of his three girlfriends.
It was gathered that after the inspector general of police deployed his Intelligence Response Team to track the notorious kingpin, they made huge progress from th documents recovered from his hideout in Igando, Lagos, after the miraculous disappearnce of his last victim. The documents reportedly aided them in identifying occupants of that apartment and opened an avalanche of information leading to Evans' movement.
That was how they discovered he lives in Mgodo area of Lagos state while other members resides in Lagos, Abuja, Rivers, Edo and Anambra states.
Source also have it that the leader of IGP's team, Abba Kyari, who was tracking their locations, had plans to round up all the suspects in one swoop but his plans failed as Evans was always changing locations making it difficult to get his exact location.
The source who spoke to Vanguard on the condition of anonymity diclosed tha Kyari was searching for Evans and had also mobilized residents of Magodo estate giving them clear descriptions of Evans, his vehicles and the name of his security man. IGP, Ibrahim Idris also announced a bounty of N30million on information that could lead to the arrest of Evans.
This led to the rounding up of thre women believed to be Evans girlfriends, identified as Amaka, Ijeoma and Ngozi. The operatives was said to have discovered that Evans was very close to Amaka and he rented an apartment for her at Okota area of Lagos state.
Sources explained that Evans was fond of sleeping in Amaka's house on a regular basis an they decided to use Amaka to lure him.
His plan to evade arrest
It was further gathered that fearing Amaka may have been picked by the police, he avoided her as much as he could. However, one of the police informants in Magodo mad a breakthrough as the IRT were banking on Amaka, and he called and informed the police that he had located Evans apartment.

He also disclosed that Evans have not been seen around his house for a long time and he was believed to have moved out of his house. Our source revealed that Evans was highly elusive at this time and he was quite aware that the police in on him and he relocated to a hotel in Agidingbi area of Ikeja adding that he moved his wife and children to Ghana and was trying to dispose some of his asstes at the time he was arrested.

The final straw
On the day he was arrested, according to sources, he was said to be aware that operatives had located his aparment in Magodo, when he contacted Amaka on saturday morning. "He was said to have called her on the phone around 4:15am, without knowing that some policemen were with her and asked her ait outside her compund to meet him.

She reportedly joined him later at the spot and as sooon as she got into the car, he attacked her, threatening to kill her for not informing him about the police presence in her house. Evans was said to have goten angry and drove away with her in his Grand Cherokee SUV and they had an accident at Iyana-Ipaja area, where he abandoned the vehicle, seized Amalka's phone and asked her to go home..
It was from there he picked a cab to his residence at Magodo to pick few things towards travelling out of the country. After then we swooped on him and arrested him inside his bedroom."