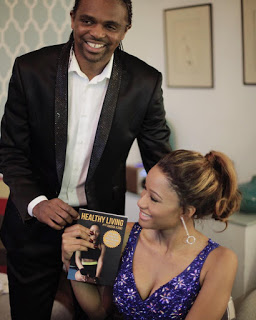 Wife of the footbal legend kanu Nwankwo, Amara Kanu get support from her husband as she unveils her new book "Healthy living with Amara Kanu".

She shared the news on her IG page with the caption:
"Birthday day ❤️️DAY 27FINALLY THE NEWS I'VE BEEN BURSTING TO SHARE. 🌟 Today, I unveil my first book titled "HEALTHY LIVING WITH AMARA KANU" 🌟
I've worked really hard and passionately on this project for a long while. I'm pleased to say I've completed writing it.
Get #healthylivingwithamarakanu when your pre order your copy from the link in my Bio.
I really hope you like it. Available for delivery from 17th July 2017."
From her caption i guess she unveiled the book on a day which probably is her birthday, so we know why it was really an amazing moment for the beautiful wife.
She also shared the photo above while she captioned it:
"To the love of my life @kingkanu4 thank you for the support of the unveiling of my new book. I had an amazing birthday celebration."