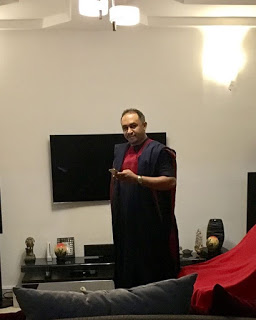 Popular On Air Presenter, Freeze has come to dare a twitter user by the name Andela who has accused him of impregnating his fiance.

Freeze wrote on his page:
"Andela, if you know you are not an inglorious bastard faggot,
from the pits of hell, show your face!
I hereby dare you in front of the whole world, to release whatever
evidence you claim to have against me you cowardly cretin!
Initially, i said i won't talk about this…However, I have changed my mind,
and will now address the issue.
1. I never collected anyone' wife from them, so i demand that you stop
with immediate effect, your unfettered attempt to traduce ny image
and supplant it with a fungating delineation of my person!
2. Contrary to your benighted claim, i never impregnate any woman inside her husband's house.
3. I hereby DENY all your unlettered allegations and challenge you to show yourself, in order for me to assist you, in making acquaintance of your own unhinged idocy.
How dare you post my son's picture, you blistering lunatic! leave my children out of your buffoonery
and FACE ME, YOU COWARD!"