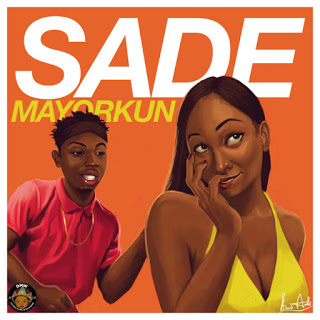 Fast rising singer Mayowa Adewale who is popularly known as Mayorkun is a Nigerian singer, song writer, pianist and entertainer came to the lime light with the hit track "Eleko" which had gained one million views on youtube after only 10 days.

We can say that Davido signed a star into DMW records with so much love from fans, nominations and award to the credit of the talented singer Mayorkun including receiving the rookie of the year award at the headies 2016 edition.
Since his venture into the music scene, Mayorkun has virtually been dropping hits back to back including Love you tire featuring Mr Eazi and the recent hit "Sade" which got everyone loving his style of music more and more.
The song "Sade" captivated totally the heart of his fans with the catchy lyrics which got the attention of everyone. So we decide to bring you the lyrics to this song for you to sing along words for words.
Check out the lyrics: Mayorkun – "Sade"
{Intro}
Masterkraft on the beat
Swa
{Verse 1}
Oro mi o gbe'jo, lo ba mi gbowo mi padi
When i no get food for kitchen shey you fit chop my money
Naso she tell me, tell me say she no like to drink garri
Shey lo se mi bi abela ofe ma tanmi
{Pre-Chorus}
Eh, efi le fun, e ma ba du
Na your type she dey wait, biko she dey follow me play
Oro rada rada no so wa to te, won ma te
Make i give it to you one time, make
{Chorus}
Oya ki lo'ruko yin o, Sade o
Mo ma de bi ti mo ma de o
Follow me go my abate o
Am ready to spend all my salary o
Oya ki lo'ruko yin o, Sade o
Bere mi lowo baba Imade o
Call me when you are not far away oAm ready to spend all my salary o
Oya ki lo'ruko yin o, Shade o
Mo ma de bi ti mo ma de o
Follow me go my abate o
Am ready to spend all my salary o
Oya ki lo'ruko yin o, Sade o
Bere mi lowo baba Imade o
Call me when you are not far away o Am ready to spend all my salary o
{Verse 2}
Ghedi, ghedi, ghen ghen bula, baby shake am for me
Oh, now you wan know my house, when my money don pile like jedi
Oba lori laya bi agbo, baby girl ko kan mi
Sha ma shey mi bi banger, sha ma yin mi
{Pre-Chorus}
Eh, efi le fun, e ma ba du
Na your type she dey wait, biko she dey follow me play
Oro rada rada no so wa to te, won ma te
Make i give it to you one time, make
{Chorus}
Oya ki lo'ruko yin o, Sade o
Mo ma de bi ti mo ma de o
Follow me go my abate o
Am ready to spend all my salary o
Oya ki lo'ruko yin o, Sade o
Bere mi lowo baba Imade o
Call me when you are not far away oAm ready to spend all my salary o
Oya ki lo'ruko yin o, Sade o
Mo ma de bi ti mo ma de o
Follow me go my abate o
Am ready to spend all my salary o
Oya ki lo'ruko yin o, Sade o
Bere mi lowo baba Imade o
Call me when you are not far away oAm ready to spend all my salary o
{Verse 3}
Your body is a killer killer, ah you a diva diva
Like alomo, you know truth is bitter
To stay fly, you no need visa
Mo tinu eran, see i chop liver
Call me when you shiver
Ah, ma lo le mi bota, cos i fit to catch fever
{Pre-Chorus}
Eh, efi le fun, e ma ba du
Na your type she dey wait, biko she dey follow me play
Oro rada rada no so wa to te, won ma te
Make i give it to you one time, make
{Chorus}
Oya ki lo'ruko yin o, Sade o
Mo ma de bi ti mo ma de o
Follow me go my abate o
Am ready to spend all my salary o
Oya ki lo'ruko yin o, Sade o
Bere mi lowo baba Imade o
Call me when you are not far away oAm ready to spend all my salary o
Oya ki lo'ruko yin o, Shade o
Mo ma de bi ti mo ma de o
Follow me go my abate o
Am ready to spend all my salary o
Oya ki lo'ruko yin o, Sade o
Bere mi lowo baba Imade o
Call me when you are not far away oAm ready to spend all my salary o
{Outro}
Sukasounds