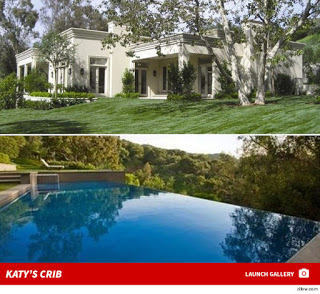 According to TMZ, Katy Perry just made a massive move on the real estate market as she's about to close on $19 million mega mansion in Beverly hills.

The house comprises of 5 bedrooms, 5.5 bathrooms and sits on 5,427 sq ft in a super secure gated community.
Even though the house was not on the market, we learned that Katy paid the owner a skosh under $19 million to seal the deal.
However, the house has all the bells and whistles any star could wish for, along with a long, winding drive way, infinity pool, a gorgeous terrace with a view….all surrounded by a forest of eucalyptus.
If you must know, her neighbours include Adele, Cameron Diaz, Nicole Kidman, Mila Kunis, Zoe Zaldana and Ziggy Marley.