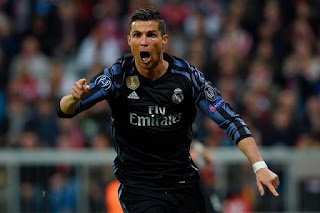 Cristiano Ronaldo made his 99th and 100th goal as he scored twice to put his team ahead in the game which now put Real Madrid at one foot in the champions league semi-finals.

Thye Portuguese netted twice as the Spanish giant came from behind against the ten men Bayern Munich side to snatch an away victory.
Real Madrid are now one foot in the semi-fianls as they were able to take the vital two away goals back to the Bernabeu.
Arturo Vidal put the host in front but things could have gotten worse for Real Madrid as he was also awarded a penalty which was denied by the Real Madrid goal Keeper.
However, after Cristiano two second half goals, Real Madrid were denied a third goal after Sergio Ramos was ruled off side at the dying minutes of the match.