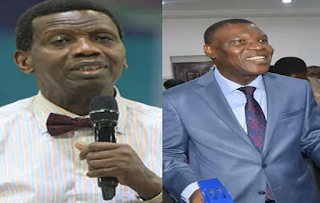 Pastor E.A Adeboye has retired as the general overseer of the Redeemed Christian Church Of God (RCCG).

Just last year, the church slammed those calling for the 74 year old to retire as the head of RCCG.
Pastor Johnson Odesola, Special Assistant to Pastor Adeboye on Administration and Personnel, said at the time that the church's constitution did not state that anyone above 70 years should not lead the ministry.
He said: "Whereas the constitution provided that the deputy and assistant general overseers are appointed to retire at 70 and enjoy their retirement benefits for life, there is no such provision for the general overseer."
However, Pastor J.O. Obayemi has been named as Adeboye's successor.
Pastor J.O Obayemi was formerly a deputy in charge of Finance and a member of governing council, before his appointment.