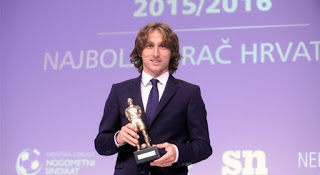 Real madrid midfielder, Luka Modric has been named croatia player of the year for the fifth time.

After making an impact and playing a major key role as Real Madrid won the 2016 Champions league, European Supercup and world club cup trophies.
Luka Modric was able to surpass his fellow team mates, Ivan Rakitic of Barcelona, Mario Madzukic of Juventus, to get the trophy which was decided by the Croatian Newspaper Vercenji List.
Luka Modric was also named in the FIFA FIFPRO World11 2016, along with his club mates, Cristiano Ronaldo, Toni Kroos, Marcelo and Sergio Ramos.