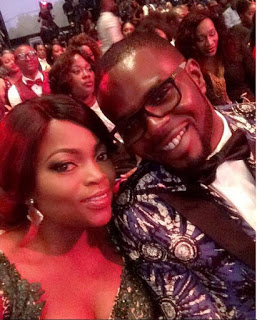 When it comes to celebrity marriages, we are all used to hearing marriage crashing here and there, but this time around AbdulRaheed Bello
who is popularly known as JJC Skillz has been able to prove the point that when it comes to marriage between two people in the same industry, it is an opportunity for both of them to work together and move forward.
The rapper revealed in an interview with Punch on how he met his lovely wife, Funke Akindele.
"She had an idea called Jenifa's diary and she was looking for a good director and camera man, and she decided to call me to help her shoot the Tv series, and that was how we met.
Infact it was an instant connection and love at first sight. I saw her, she saw me, and we saw stars. From that moment, everything moved on without looking back", the rapper said.
And also for those celebs who believe dating in the same industry is unlikely to work, JJC had this to say:
"The truth about me is that i work hard every time, and most of the people i dated back then used to complain that i don't give them adequate attention. But now i think i have found my better half who work as hard as i do, so it is a perfect combination and the world is in trouble because we are the perfect team."
However, Funke Akindele was known to have been once married in 2012 until they divorced less than a year due to some minor differences, and JJC on the other hand had three children from his past relationships.
Although, the relationship between JJC Skillz and Funke Akindele was rumoured for a while until they made it official on May 2016 in a secret wedding in London.
And now the couple are currently working on a project together, and according to the singer, he said, it is something big Nigerians should watch out for.
We just can't wait to see what they are up to!!