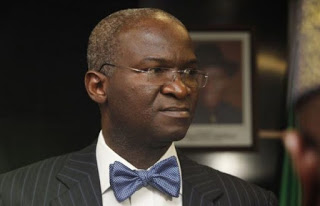 The Minister of Power, Works and housing, Mr Babtunde Fashola (SAN), has called on Nigerians to expect steady power supply this year, 2017.

Fashola made mention of this while giving his opening address as Guest Speaker at the January editon of the Nextier Power Dialogue on Saturday.
According to him, such policies would help realise a deepening of metering, sanctions for energy theft and better contract performance from operators in the power sector and as well as to help achieve the financial strenghtening of the Nigerian Bulk Energy Trading PLC (NBET).
Mr Babatunde Fashola also said that the government is working towards implementing policies that would improve gas and power supplies.
He also informed his audience that, "Clearly these policies constitute the way forward and ensures that everybody in the system gets paid. If we have that, at least, we can be sure that those who are supplying gas will not be shutting down because their creditors are pulling them. Then we go to the other side that is angry to see what we can do because gas problem is exacerbated on both sides".
The former lagos state governor, had also explained the reason for the nation wide blackout, blamed the sabotage of gas pipelines by those he described as "some of our angry brothers"
On what to expect in the New Year in terms of projects aimed at increasing power supply, Fashola listed the Kudenda Transmission Project in Kaduna, which he said would be completed shortly as well as other power assets in Lagos, Sokoto and many more across the country.
"You hear us announcing that we commissioned one transmission project or the other, you see me going round for these commissioning; that is the Grid evolving.
"Today, at its most frugal, it would support 6,500MW; pushed to its limit it would carry 7,200MW. So it is not true when you hear that the Grid capacity is not more than 5,000MW. It is growing every day and more projects are coming up. We have completed some and more are still coming up. So that is where we are.
"Now it means that notionally, if we had those 3,000MW plus 4,000MW we were already at 7,000MW. But we would not have it because some of our family members are angry", he said.
Also, according to the Minister, "There are many power projects that will come on stream this year like the Gurara hydro power that we should begin to benefit from it by the end of this quarter because the power plant has been completed remaining just to transmit to Kudenda in Kaduna. Katsina Wind Mill will also be completed this year; the equipment for the completion have left Europe for Nigeria. Kaduna's 215MW will also come on stream this year, and few others".
Source: Dailypost