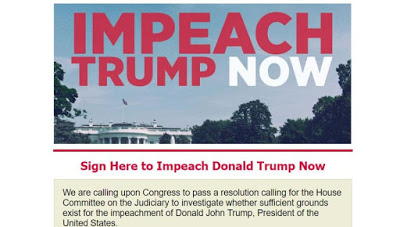 Doanld Trump had only been president of United States for few moments when plans were already underway to impeach him.

As the new commander in chief was sworn in, a campaign on ImpeachDonaldTrumpNow.org, started laying the groundwork to get him ousted from the White House.
Donald Trump had not even been in office for a matter of moments before a campaign to impeach him was launched.
Spearheaded by two liberal groups, Free Speech for People and RootsAction, it is building the case that because Trump is holding on to ownership of his luxury hotel and golf course chain, he is breaching constitutions which could lead to the publics faith being undermined in his decision making.
Ethics experts have also warned his financial holdings could possibly lead to constitutional violations.
While their campaign is early, the groups believe they have a shot at impeaching the president, and aren't concerned at any potential angry backlash from those who say Trump should be given a chance.
Ron Fein, legal director at Free Speech for People told the Washington Post:"If we were wait for all the ill effects that could come from this, too much damage to our democracy would occur.
"It will undermine faith in basic institutions. If nothing else, it's important for Americans to trust that the president is doing what he thinks is the right thing … not that it would help jump-start a stalled casino project in another country."
Source: Thesun