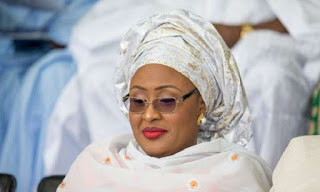 Wife of the president, Mrs Aisha Buhari is currently saddened with the death of IDPs after the accidental bombing of the camp in Borno.

Aisha Buhari commiserates with the bomb victims in Rann, Kale Balge Local Government Area of Borno by the Nigerian Airforce fighter jet. This is contained in a condolence message by her special assistant on media, Adebisi Olumide-Ajayi, in Abuja on Wednesday.
My thoughts are with the victims and families of the deceased and my fervent prayer is that God gives them the fortitude to bear the loss."
She also prayed that the Alimighty God will continue to guide the armed forces and the citizens in their bid to rid Nigeria of terrorism.
Aisha Buhari also stated that, "Being deeply involved with IDPs and having shared both sad and happy moments with them through my NGO, Future Assured, I feel really pained by this unfortunate incident".