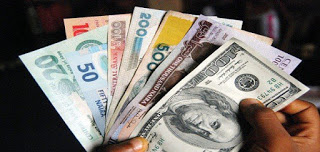 According to Alhaji Aminu Gwadabe, the president, Association of Bureau De Change Operators Of Nigeria (ABCON),
speculation, hoarding and increasing zero confidence of foreign investors among otthers are the reason for the continuous spike of the local currency in the exchange market.
The News Agency Of Nigeria (NAN) has also quoted him as saying that the existence of Non-derivable forard market in London that enjoyed the patronage of Nigerian companies and foreign investors also contributed to the dollar liquidity challenge.
Gbadebe said that the NDF market rate hovers around N450 to a dollar.
He said; "The existence of that market is a challenge to liquidity inflow to our own market".
The financial expert had further explained that diaspora remittances had recently declined as ,ost of the newly registered international money transfer operators had yet to send inflows.
However, Gwadabe has called for a robust and sustainable dialogue betwenn opearators in the forex market and the regulator to ensure an urgent solution to this bad situation.
He also noted that most of the countries experiencing recession were already getting out of it but still wondered why the Nigerian situation is so 'lukewarm'.
He also mentioned that regulators should encourage flexibility in the rates of foreign investors inflows as a temporary measure to boost liquidity in the market.
He called on the regulator of forex market to also boost supply to the BDCs sub-sector