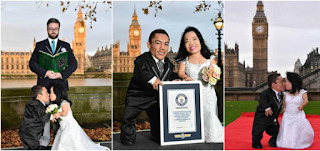 Based on Guinness book of records, Paulo Gabriel Da Silva Barros and Katyucia Hoshino
were officially crowned the world's shortest couple in London. Both couples are from Brazil and their height combined together is 181.41cm (71.42 in), becoming the world record holders for the shortest couple, which was back in September after tying the knot.
According to source, the two of them have been chatting online regularly for a couple of years before they finally met in person for the first time on December 20, before they finally began dating on December 29.
However, they both maintained a long distance relation for four years, managing to see each other at least on a couple of months basis.
Not to mention that Katyucia decided to move from her home town of Londrina to Itapeva which is Paulo's town in January 2012, realizing they were meant to be together.
Check out other photos below;