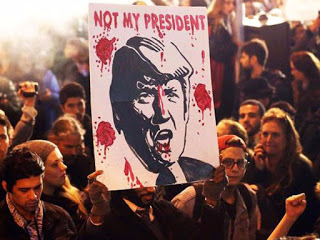 Several demonstartions and protest on the election Of Donald Trump, as thousands of people rallied against the president elect in cities from coast to coast.

Demonstartors also marched along the streets, blocked intersections, burned effigies, while condemning Trump's crude comments about woment and immigrants.
Most of the protesters chanted 'Not my president' while others waved signs with the same message.
At least 100 people were arrested at some of the protest, according to the police officials, most of them in New york.
However, most of the demonstrations, took place in urban centers in blue states of which Clinton won, highlighting the demograpic division that shaped the election results.
Clinton's narrow victory in the popular vote, coupled with her loss in the electoral tally, made protesters in New York to chant 'She got more votes' as thousands massed in front of trumps tower in Mid town Mahattan.
Moreover, protesters had earlier marched from union square to Trump's building chanting 'Donald trump go way! Sexist, racist, anti-gay! Even at one point, protesters lit an American flag on fire.
Police in New York also said that about 65 people were arrested during the protest due to disorderly conduct. People in Trump's circle said they already expected such activity after th election.
Also in Oakland, police said the number of demonstrators eventually grew to about 7,000 people and began to splinter into smaller groups, some of which vandalized buildings. The police even said they used a device releasing tear gas at several times as things got more heated. Apart from the three police officers that were injured by throwing of fireworks at them, three cars were also damagaed.
Authorities also reported 16 cases of vandalism including graffiti and looting. Thousands of protesters also filled the streets in Los Angeles , including some who burnt a paper-marche Trump head in front of city hall.