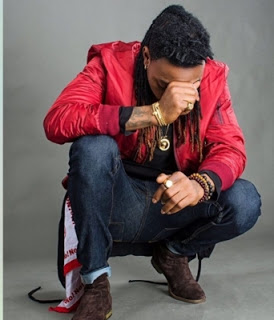 Popular Nigerian artiste, Solid star is indeed not happy with the recent nominations list released by Headies Awards
and he has however call out on the organizers of the award ceremony while also claimimg that the Nigerian music industry is filled with hate and jealousy.
At first it was Tekno pouring out his mind on their recen nominees list and now it is Solid star. Check it out below what the 'Wait' crooner has to say this time around;
"Donald Trump won the US election and we were all blinded by the lies, hype and propaganda made by the media. The media even blinded themselves bringing out polls and predictions that the probability of Trump wining against Hilary with all his scandals was 30:70 but at the end he won and shamed everybody.


This is the same issue we have in our entertainment industry in Africa, the media has succeeded in blinding the fans from what is real, pure and good, from what real talent and good music is about. They hype their family and friends and ignore the ones that does not text them good morning everyday and form fake friendship with them. I am not about the life of faking or acting a friend in your face and do otherwise behind your back and that is why i have little or no friends in the industry because even the artists are jealous of each other.
This is not directed at anybody or media, it is a general issue we all have to look into. In his statement", Solid star also mentioned that "An award organizers recently released a list and even though i was nominated i wasn't satisfied because the main category that would have meant a bit to me was missing on my nomination which is best raggae/dancehall. I can only pick one song out of the whole bunch that did bettert that wait refix which features Patoranking and Tiwa Savage. No disrespect to any artist or organizerz but some things are just wrong".
The question is do you agree with Solid Star? what do you think?