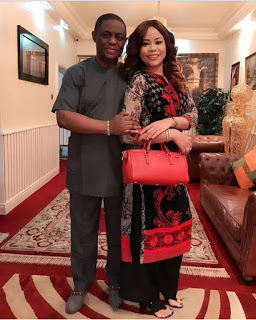 Controversial Nigerian politician, Fani Kayode is at it again as he openly sings praises for his woman, Precious Chikwendu.

Also being a poet, Fani Kayode wrote a poem about his wife as he called her "Queen of ages" and "Snow white"
He said:
"From the hills of Ohafia and the valleys of
Abriba comes you that makes me smile. From the forests of Umahia and the
lush green fields of Nanka comes you that brings me joy. From the
eastern shores of our nation where stars shine brightly and from whence
comes men whose spirits cannot be broken comes you that gives me hope.
From the lineage of those who dare to believe and from the stock of
those who soar like eagles comes you that creates new beginnings. God
brought you my way and has given me a new lease of life. What a gift you
are- not just to me but also to humanity. Your star shall shine from
generation to generation".