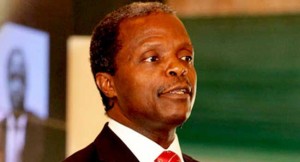 The vice president of Nigeria, Prof. Yemi Osinbajo has predicted that the country shall soon overcome the present economic
challenges and recession.
The vice president declared this at the Minna Choral Society (MCS) 8th annual Festival of songs and concerts at Minna, Niger state capital.
He has also said strict adherence to divine instructions is the panacea to bailing the country out of the present economic condition.
Just by drawing inference from the theme of the concert "More than Conquerors", the vice president has said "We are more than conquerors" and we will over ome our challenges and difficulties.
Osinbajo has also said that we should always depend on God, as even with all the challenges faced by this country, God still love this country so much that he will not let us down.
While citing from Romans 8:27, the vice president has said he was convinced that no situation will make Nigeria go down but advised that obedience to divine instructions is surely a way for victory over those challenges.
The Niger state governor, Abubakar Sanni Bello, who was also in attendance has challenged us all to follow the teachings of God as prescribed in the Holy books for the country to experience a turn around for good.