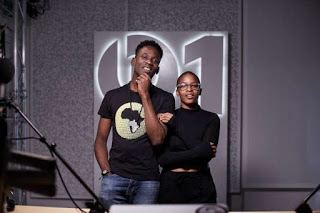 Starboy act, Mr Eazi meets up with Julie Adenuga on Apple Beats 1 radio where he gets to talk about his work with Eugy
on 'Dance for me' and his collaboration with some Uk artistes such as Giggs, Rudimental.
The artiste get to talk about his music and how he has been getting love from fans, even from being called up to wedding gigs of which turned out to some sort of concert.
Mr Eazi also lets in on his background, how he found his way to Ghana which has led him to where he is today.
On Collaborating with Eugy on Dance for me, he said "Eugy had been trying to reach out to me for a long time and then he
came via Juls, Juls has produced a lot of my work. Once the
recommendation came from Juls of course, I just had to work on the
record… I came to London for the first time in March and we recorded
'Dance For Me'. We just put it out and it's been crazy. It's so funny,
sometimes I go to some places and they call me Eugy!"
On where he is from;
"I was born in '91, Friday '91, July 19 in
Port Harcourt, Nigeria – a rainy Friday night my mum tells me. In a
military hospital. I stayed in Nigeria – I moved from Port Harcourt to
Lagos until like end of high school and then my mum 'shipped' me over to
Ghana.
I wanted to school in Canada to
study Aeronautical Engineering, I didn't know my mum and my sister and
the rest of the family were low-key working on getting me admission to
Ghana… the fees for Canada was like $16,000 while the fees for Ghana was
like $5,900. My dad just – he didn't want to say that he didn't want to
spend more money – so he was just like "Your mum thinks Ghana is close and there's family there, just go to Ghana." Next thing I know I'm in Kumasi!
On what's next for him; Mr Eazi said he will be doing the remix of his hit song "Skintight" with Wizkid. Although a lot of A-list artiste have been expressing their love for my music and have been sending DMs on Instagram to jump on the remix of 'Skin tight' but i have decided to settle for wizkid, said Mr Eazi.