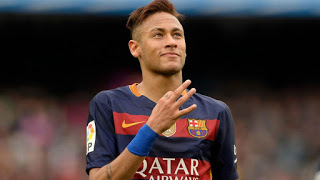 Brazilian star, Neymar announced on Sunday that this week will mark the beginning of his 'music career'.

In a post to his fans through his official Twitter account, Neymar
revealed, "This Wednesday I begin my music career and I'm going to
release my first song on Facebook. We will have 'Neymusico' Share it!"
The striker on various occasions has published photos through social
media showing him appearing at concerts with well-known musicians as
well as pictures of him singing popular verses of "pagodas" (a musical
genre derived from samba).
Galera, quarta eu começo minha carreira musical e vou lançar a 1ª música no meu face. Vai ter

#Neymusico

nos palcos sim. Cola lá.

— Neymar Jr (@neymarjr) September 11, 2016
Neymar isn't the only football star to have lauch a music career as ex- Real madrid and and Psg forward has also done that some months back.