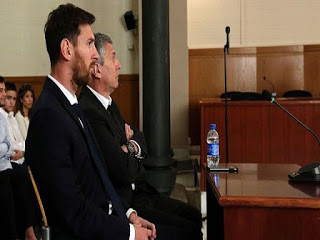 The Argentine and Barcelona football forward, Lionel Messi and his father, Jorge Horacio Messi has been sentenced to 21 months in prison for tax fraud.

A Barcelona court has found both Messi and his father guilty of three counts of tax fraud.
However, Messi insisted during the trial that he knew nothing about the management of his financial affairs, saying 'his father dealt with them while he was playing football'.
His father, Jorge Messi also claimed he did not have enough knowledge to commit such fraud, blaming his tax consultants instead.
In a statement issued, the court also said that the sentence can be appealed through the Spanish supreme court.
Under Spanish law, a prison sentence under 2 years can be served under probation; which probably means that Messi and his father are unlikely to go to jail.
The court has ordered Messi to pay a fine of around 2 million euros ($2.21 million) and his father to pay a fine of 1.5 million euros for the crimes.