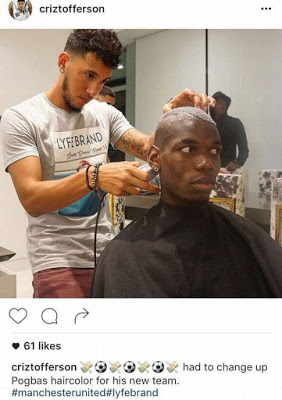 Paul Pogba's barber might have spilled the beans on the biggest transfer of all time.

The Paul Pogba's transfr saga has been rumbling around on all summer but could virtually be about to end.

Multiple reports have it that Manchester united are ready to spend £100 to sign the player they let join Juventus for free.
And now an innocent mistake from the player's barber may have revealed the Pogba's next destination.
The post shows Pogba in the barber's chair with the caption: "Had to change up Pogba's hair colour for his new team. #manchesterunited #lyfebrand."
However, it then vanished, before reappearing without the United reference.
Has Pogba's barber revealed all or was he simply getting over-excited at the transfer talk?
What do you think?
Follow 360dopes across social media on Facebook, Twitter, Googleplus