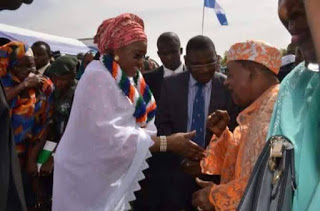 We came across this photo which have been making rounds on the Internet and we couldn't help but to share it.

The president's wife, Aisha Buhari is spotted trying to shake the Alaafin of Oyo, Lamidi Olayiwola Adeyemi III who apparently didn't shake her hands. The photo have gone viral with Nigerians reacting differently to the photographs.
The photo formed a major discussion on the social media of which some felt the Alaafin of Oyo snubbed the president's wife while others thought the shaking of the monarch's hand is disrespectful.
Oba Adeyemi is the Chancellor of University of Maiduguri.
We don't know what to make of this photo but we could like you to also share your thought.