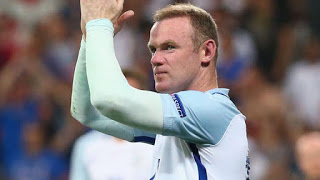 Manchester United and England forwar, Wayne Rooney has insisted that he will not retire from international football as he plans to continue as England's captain for the 2018 World cup qualification series.

England were eliminated from the Euro 2016 on Monday after they lost 2-1 to Iceland at the Allianz Riviera which some even called embarrasing.
England's coach, Roy Hodgson resigned immediately after the round of 16 clash but Rooney has dedided that he will not follow his footstep in that direction.
"It's disappointing tonight, but I enjoy and am proud playing for England," Rooney told The Mirror.
"I'll be interested to see who the next manager is. If selected, I'll certainly be there."
The Manchester United skipper, also admitted that England players let Hodgson down.
"We can't forget he's brought a lot of young players through and I think the future's bright for England," he added.
"Unfortunately it hasn't happened in this tournament but hopefully, in
the future there's good things to come and although it's difficult to
say and see that now, I think Roy has been good to the players and I'll
be thanking him."