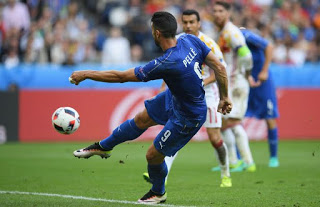 Italy are through to the quater finals of the European Championship after defeating the defending champions Spain 2-0 on Monday evening. Let's just say this is a retaliation of Spain did to them in the last European championship final.

Giorgio Chiellini pounced after David De Gea pushed out Eder's free-kick to give the Azzuris the lead in the first half.
De Gea then produced several excellent saves to deny Spain, as they pressed for an equalizer.
Southampton striker, Graziano Pelle, eventually killed off the tie late in the second half with a second goal.
Italy will now play world champions Germany in the last eight on Saturday in Bordeaux.
It's going to be a tough one certainly for the Italians.