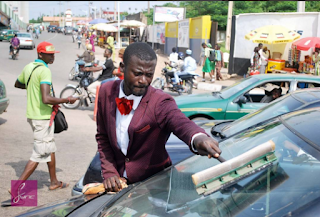 Popular Nigerian photographer, Daniel Sync came across a man who
cleaned windscreens for a living and surprisingly he looks like a man
going for his own wedding with his outfit. The Photographer made sure to
take photos and below is how he recounts meeting the dapper windscreen
cleaner.

"So, I bumped into this well suited windscreen cleaner yesterday in
Ogun State. We need more innovative citizens like Abdulahi in Nigeria.
Well spoken Abdulahi Olatoyan who is in his early thirties is a
University of Ilorin dropout, who turned to the street after the demise
of his father to make a living and save enough money to start a
business.
However, he hopes to return to school to finish his studies one day.
Photographing and speaking with Abdulahi today inspired me and i do hope
that you are inspired by his story too. If you're trying to achieve,
there will be roadblocks. I've had them; everybody has had them. But
obstacles don't have to stop you. If you run into a wall, don't turn
around and give up. Figure out how to climb it, go through it, or work
around it."