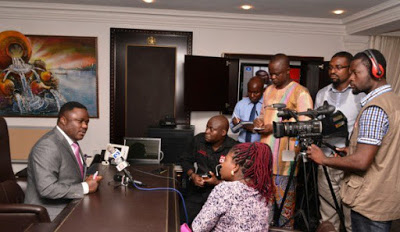 Cross River State Governor, Ben Ayade surprised workers on 1st of May, May Day.
When he announced he announced the payment of salaries for the month of May on the first day of the month.

Amild drama immediately ensued when the workers who were at the U.J Esuene stadium for the May day celebration began to receive salary payment alers from their various banks. while even unable to keep the excitement, the workers shouted "alert, alert".
The workers really praised the governor. Although before now, the governor normally pay the workers salary between 13th and 20th of each month.
However, Governor Ayade also told the workers who named him "Best labour friendly governor in Nigeria", that his administration had a duty to give workers a sense of dignity.
while he stated that "We must create opportunities for labour to feel a sense of dignity. If
you are truly a Christian, you must know that as you care for your kids,
you must care for labour,"
Another good news is that workers in the Edo State civil and public
got cheering news during the May Day celebration as their salaries were
increased.
Workers' salaries were increased by 45 percent. The minimum wage is now N25,000.
The workers, especially members of the Nigeria Union of Local
Government Employees who were in pensive mood at the beginning of the
rally, danced and sang praises of Governor Adams Oshiomhole.
What do you think?