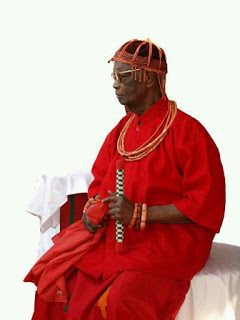 Oba of Benin, Omo n'Oba n'Edo Uku Akpolokpolo had died.
Based on source, the monarch had been rarely seen since 2015 and his kinsmen have
denied he has died severally but the state governor, Adams Oshiomhole
has put to bed the rumors. He confirmed he has joined his ancestors in a
statement;

"Our hearts are heavy, laden with pains and grief, at the announcement of the passing on to glory of Omo n'Oba n'Edo Uku Akpolokpolo,
Oba Erediauwa of Benin, our highly revered Oba, a distinguished Edo
numero uno, an accomplished Nigerian, a seasoned bureaucrat,
quintessential unifier, unique personage and exemplary Omo N'Oba, whose
reign brought distinction, immense class, finesse and integrity to
traditional institution in Edo state and the country at large," he said
in a statement.
"His carriage comes with an élan that was peculiar with the reverence
of royalty. His uncommon courage was symbolic of the can-do spirit of
the Edo mind. His unity of purpose was not in doubt even as he used his
revered position to promote constructive engagement amongst all shades
of opinion and culture in Edo state."
Oshiomhole, who enjoyed a cordial relationship with the monarch, showered encomiums on the late king.
He expressed delight that the vacuum which the deceased left would be felt by his eldest son.
"As a thorough-bred bureaucrat, rising to the pinnacle of his career
as a federal permanent secretary, he understood the dynamics and
intricacies of governance," he said.
"He was the alternative voice to the many voiceless in our society,
calling government attention to issues of development and transparent
governance, without minding whose ox is gored.
"He was brave, fearless, punchy and instructive in his verbal and written messages.
"To us at the Edo state government, he was our strongest supporter;
both in his uncommon faith in our ability and his readiness to offer
uncommon advice to sharpen public discourse in our shared commitment to
transform Edo state.
"It gladdens our heart, therefore, that our revered Oba was alive to
witness the positive transformation of Edo state under his reign, and
for standing with us through thick and thin in the course of making the
Edo economy a treasure to behold. Being part of that eloquent history of
transformation before his reunion with his ancestors gives us further
reassurance that he will occupy a special pride of place in the
hereafter.
"We are enveloped with a deep sense of nostalgia that our great Oba, a
great-grandfather, grandfather, father, uncle and iconoclastic royal
father of exemplary carriage and conduct, who sustained the dignity of
the average Edo mind, has joined his ancestors. We are, however,
encouraged by the fact that another great son of the Great Benin
Kingdom, His Royal Highness, Edaiken N'Uselu, Crown Prince Eheneden
Erediauwa, who is already showing manifest quintessential attributes of
his great father, will step into his father's big shoes.
"Edo people will miss our iconoclastic royal father of the great
Benin Kingdom. Nigerians and Nigeria will miss this great exemplar of a
Royal Father, an Oba of distinction and integrity. Adieu until we meet
to part no more."