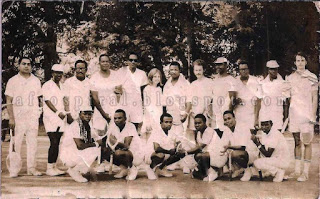 We Knew he used to enjoy tennis a lot, well this photo just shows him from the 70's when he was just an officer in the Nigerian army.

Also, some other people in this photo are now prominent politicians as well.
In this photo is Plateau state governor Jonah Jang (standing 2nd from
left) and then Air Force Dr Michael Obafunsho Peters of Lagos State
(standing 3rd from right).
The foreigners were mostly civil servants, the other Nigerians are mostly Army and Air Force officers.
Buhari was really looking kind of stylish next to a pretty blonde Caucasian in his white tennis wear and dark sunglasses.