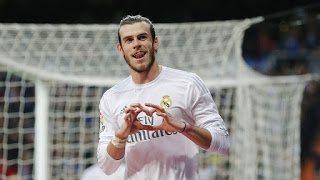 According to former Real madrid's boss, Rafael Benitez, Gareth bale could become the best player in the world within few years.
Bale, 26, played under Benitez when he was in charge of Madrid earlier this season.
Benitez lasted seven months in the job before he was sacked by Los Biancos in January, but he says he saw enough of Bale at that time to convince him that the Wales international can make it to the top.

"I never had a moment's problem with Gareth. He was a very solid professional who listened," Benitez is quoted as saying by the Sunday People. "He did his work on the pitch and in the gym too.
"But what I see in him most is improvement. There are areas of his game that he continues to work on. He can get better.
"Obviously, he's a very good player now. But in a couple of years if
he carries on, I don't see any reason why he could not be regarded as
the best."
Bale who has hit 13 goals with 15 la liga games this season, is currently sidelined with a calf injury.
Do you Agree withBenitez?