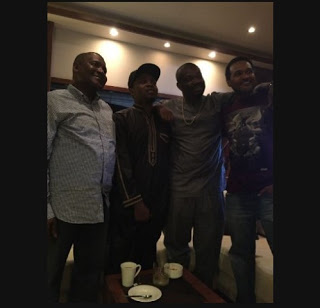 The Africa's richest man was given credit to have ended the beef between Olamide and Don Jazzy which happened at the headies which was held at the beginning of the year. the billionaire was responsible for reconciling both entertainers and we didn't have photo proof until now.
This photo that has just surfaced online shows Olamide, Don Jazzy, Aliko Dangote and an associate allegedly from when they were reconcilled.
This just confirms that Olamide and Don Jazzy reconciled at the residence of the business mogul. Pictured above is Aliko Dangote, Olamide, Don Jazzy and a friend after they made up.