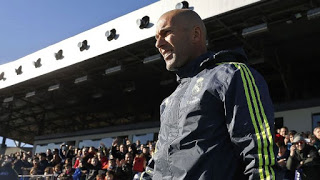 Read madrid new coach, Zinedine Zidane has revealed his plans to win the champions league this season despite admitting the fact that he is not prepared to manage at the highest level.
The former France captain who has replaced Rafael Benitez, who was sacked after just seven months at Bernabeu has take up his first role in senior management.

Zidane who has been working as the manager of the club's team B Castilla believes the club's own drive for success will make up for his own lack of experience.
"For me it is very simple: I'm very happy to be here," he told a news
conference. "I have clear targets and I'm going to do everything I can
to reach those targets.
"Good football has always been important at this place, and I am
going to continue that. It has to be offensive football, balanced, and
nothing else.
"I have seen a team that is focused, happy and switched on and we're all happy.
"To win is essential at this club. We are in the last 16, and the
target always is to win the Champions League and I will try to make that
possible.
"I've got good feelings, but I have to say never is a coach fully
prepared, especially a coach who has never managed at this level before,
but I feel kind of prepared. I have motivation and hope and all that
will help me."