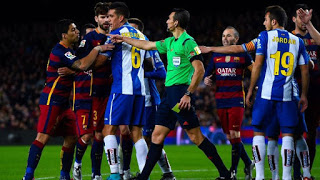 During the match which ended 4-1 in Barca's favour, with eight Espanyol players booked during proceedings and two sent off, Barcelona striker, Luis Suarez was involved in a angry confrotation which he called Espanyol's player a "Waste of space".

"At the end of the game, once in the tunnel, Barca's No. 9, Suarez,
Luis, while the Espanyol players were coming up the stairs, waited for
them and shouted at them on various occasions," the report says,
according to the Mirror.
"He said: 'I'm waiting for you, come here! You're a waste of space.'
"It provoked a confrontation between players of both clubs and the
present security guards had to get involved, as did coaches of both
teams."
Espanyol will now host the return leg of the Copa Dey Rey tie on Jan13.