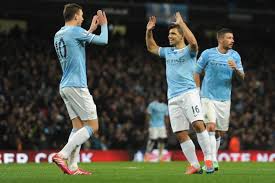 Manuel Pellegrini praised his team's character after they recovered
from going a goal down and being outplayed at Watford to rescue a 2-1
victory and keep their Premier League title bid on track.
An afternoon in which rivals Manchester United and Arsenal also won
looked likely to end in further disappointment when Aleksandar Kolarov's
own goal gave Watford a deserved lead.

But classy finishes in the final 10 minutes from Yaya Toure and
Sergio Aguero secured an important win that kept City in third place and
within three points of league leaders Arsenal.
It was the kind of victory on which title challenges are often built
and it was tempting to conclude the result will give inconsistent City
the momentum they have lacked.
"I always said this team has a lot of character. We never give up, in
every important game we always keep the face," Pellegrini told Sky
Sports.
"We won the Champions League group in the same way. We were very
unlucky to be losing this game, because the corner was not a corner, and
after that it was an own goal, but we keep our minds cool.
"We continued to think we would [turn the game around], and we did it. It was a very good game, and tough for both teams.
"I was happy about the last three games, especially [the 0-0 draw at]
Leicester. We played very well against the best team in the first half
of the season.
"Before that we played well against Sunderland and didn't play bad against Arsenal. We did not deserve to lose that game.
"We are returning to our form by recovering important players and
once they are 100 percent fit the team will improve every game.
"I am so happy to be in all competitions despite all the injuries
we've had. We must be thinking game by game. We next have Everton."
Watford manager Quique Sanchez Flores has been praised for inspiring
his team to challenge for European football when they had widely been
expected to struggle against relegation.
Despite the disappointment of defeat, he insisted he remained proud
of his players' performance and the way they "dominated" the division's
most talented team.
"It's difficult to dominate Manchester City like this," the Spaniard
said. "Against big teams it's difficult to control the attack, the ball,
to control the tempo, but we did it.
"We were able to control the spaces, to stop the good players, we
played really well with the ball. It's very similar to the last game
against Tottenham.