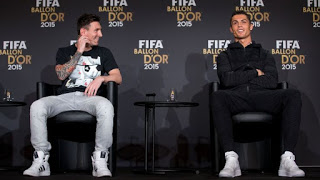 The Real madrid star, Cristiano Ronaldo has just admitted that Lionel Messi has a better foot than him and he also accepted that the Barcelona star is a favourite to win the Ballon d'Or.
The comments came as Messi and fellow nominee Neymar spoke to reporters ahead of Monday's gala awards ceremony in Zurich.

Messi is tipped to pick up the fifth Ballon d'Or of his
career, reclaiming his place as the world's best player after Ronaldo
won the prize in 2013 and 2014.
Asked whether there was anything about Messi's game that he envied, Real Madrid galactico Ronaldo said he was a fan of the Argentine's left foot.
"His left foot is pretty good — better than mine," he said. "I'd like to have his left foot."
At the other end of the stage, Messi's Barca teammate Neymar
interrupted. "I'd take both of his feet," the Brazilian said amid smiles
from all three superstars.
Messi, asked the same question, replied: "Envy is a very negative
trait. Cristiano has many great qualities which every player would like
to have. We each have our individual styles."
Ronaldo had earlier acknowledged that it was unlikely he would take
the Ballon d'Or this year as his club had not won any major trophies
while Barcelona had taken five including the Champions League and La
Liga titles.
"Obviously it is not surprising to me that Leo might have better
chance," he said. "But I am here for a reason, because of the votes from
national coaches and captains.