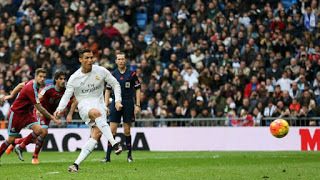 Cristaino Ronaldo has returned to full training ahead of Sunday's la liga game at home to Espanyol, while his fellow striker, Gareth Bale looks unlikely to be risked as he continues his recovery from a calf injury.
Ronaldo who has had every bit of Real madrid la liga and champions league games so far as this season is concern, is now back in training as he looks set to face Espanyol as Madrid look to keep up the chase on league leaders Barcelona and Athletico madrid.
However, captain Sergio ramos is also expected to return from injury to face Espanyol, with fellow centre back Pepe possibly being rested according to Espn.