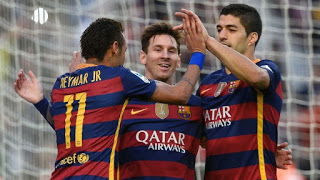 Barcelona midfielder, ArdaTuran has finally made his La Liga debut for Barca, having been forced to
wait for their transfer ban to expire before he could be registered.
Barcelona midfielder Arda Turan has described Lionel Messi as "a miracle
from God" after the Argentina international scored a hat trick in the 4-0 win over Granada.

The former Atletico Madrid player was full of praise for Messi, who is expected to win the Ballon d'Or for a fifth time on Monday.
"I have never seen anyone like Leo Messi," Turan told Turkish newspaper Sabah. "He is a miracle from God. I like it when he does his things on the field.
"It's not jealousy — I feel good, for instance, when he nutmegs someone."
"Luis Enrique wanted me at Barcelona because of my ability to hold on
to the ball, my desire for winning and hard work," he said.
"He told me that these are the reasons he wanted me. I will show everyone on the pitch why he wanted me at this team.
"My only regret is not winning the Champions League when we were so close in 2014 [losing to Real Madrid after extra time].